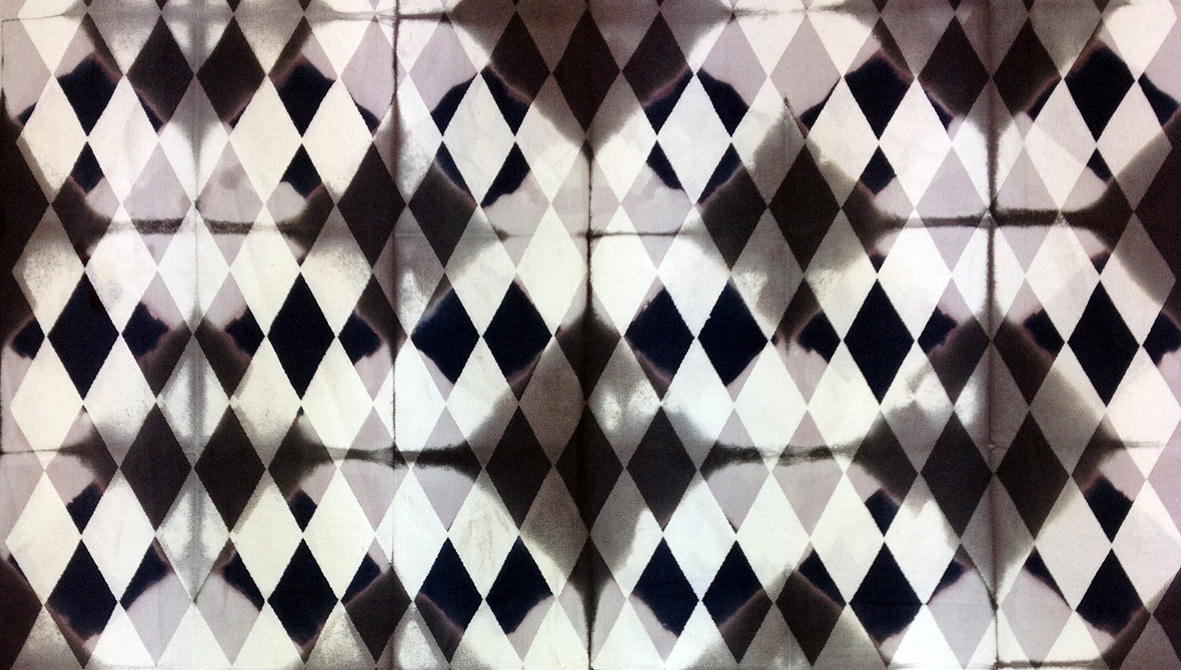 Born 1973 in France, lives and works in Stockholm, Sweden
Main education:
1996-2000 Konstfack University College of Arts, Crafts and Design 
Commissions:
2017 Public commission Sickla Station
2012 Public commission at Kalmars Länsjukhus, collaboration with Lina Selander
Solo Shows:
2014 "Suspended Movement part II", Kulturhuset, Örebro, Sweden
2013 "Suspended Movement", Konstfrämjandet Sörmland, Eskilstuna, Sweden 
2011 "Fold-unfold", 316 Kubik, Hudiksvall, Sweden
Selected group shows:
2016 10th International Shibori Symposium, Oaxaca, Mexico
2015 Fiberspace gallery "Itajime Interpreted"
2015 9th International Textile Congress, Istanbul, Turkey
2015 "Shibori i Praktiken" Lidingö Stadshus, Sweden
2014 9th International Shibori Symposium, Hangzhou, China        
2014 "Spår av Shibori - a sense of belonging" Ronneby Kulturcentrum, Sweden
2014 "Cabinet of Curiosity" Dalslands konstmuseum, Upperud, Sweden
2013 "Plenitude", Swedish Embassy, Tokyo, Japan
2013 "Shibori - to dye for", Falkenbergs Museum, Galeri Runnekål, Kil, Sweden
2013 "Home Sweet Home", Liljevalchs Konsthall, Stockholm, Sweden
2011 "Oundvikligt", Nacka Konsthall, Sweden
2011 "Invecklat/Utvecklat" Rosendals Trädgård, Stockholm, Sweden
2011 "New Star", Galleri Inger Molin, Stockholm, Sweden
2004  Swedish Style in Tokyo, Japan
2000 – 2001 "3D+ Swedish Design on Stage", Brussels, Berlin, Dublin, Madrid.  
2000 "Baltic Sea Four", Estonia, Lithuania, Sweden, Finland.
Career:
2016 Lecture at Contextile, Contemporary Textile Art Biennial, Portugal
2008 – Teacher in textiles at Nyckelviksskolan 
2002 – 2006 Teacher at Konstfack University College of Arts, Crafts and Design
2002 – 2007 Guest teacher at Beckmans College of Design/Stockholm,
School of Industrial Design/Lunds University, National Institute of Design/Ahmedabad/India
2000 – 2001 Patterns for Ikeas project; Young Suede.
Grants:
2016 Iaspis - International collaborative projects 
2015 Iaspis - International collaborative projects
2013 Swedish Arts Council - International collaborative projects
2013 Iaspis - International collaborative projects
2012 Two - year work grant from The Swedish Arts Grants Committee
2009 One - year work grant from The Swedish Arts Grants Committee
2006 Estrid Ericsons Stiftelse
2006 Beata Brummers Stiftelse
Membership:
2010 – Swedish Shibori Society
2008 – 2010 Studio Rita